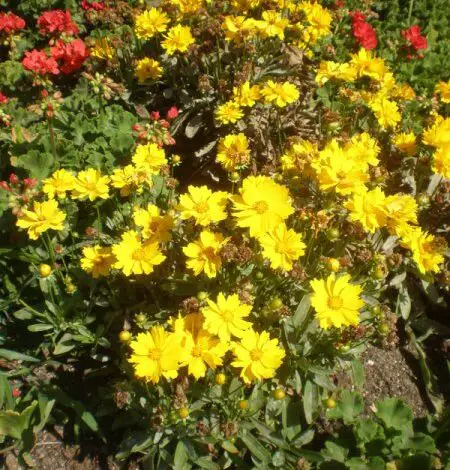 Dicas
Cuidados com a planta Coreopsis lanceolata ou Semiramis
Na família Composites , encontramos o gênero Coreopsis , formado por mais de 300 espécies de plantas perenes e anuais da África, Ásia e América. As espécies principais são : Coreopsis lanceolata, Coreopsis grandiflora, Coreopsis auriculata, Coreopsis gigantea, Coreopsis elegans, Coreopsis coronata, Coreopsis drummondii.
Ele recebe os nomes vulgares de Semiramis, Buttercup, Dahlia of the Seas ou Poet's Eye.
Coreopsis são plantas herbáceas com folhas lineares e lisas ao redor do caule. As flores , geralmente amarelas, aparecem no final do caule e parecem margaridas. Florescem no verão e podem fazer isso até quase o inverno.
São utilizadas como flores cortadas e para formar buquês no jardim, combinadas com outras flores como cosmos, zínias ou calistefes.
O local deve estar em pleno sol e protegido do vento.
Embora não desconfiem do solo , preferem que seja bem drenado e que contenha muita matéria orgânica. As espécies anuais não precisam para serem transplantadas , pois as sementes são semeadas no local final. As perenes podem ser transplantadas na primavera.
Água moderadamente durante todo o ano e aumenta ligeiramente no verão.
O fertilizante anual de jardim é suficiente para as espécies anuais, mas para as perenes é aconselhável adicionar um fertilizante mineral todos os meses, desde a Primavera até ao início do Outono.
Estas plantas podem ser atacadas, especialmente no verão, por ácaro aranha vermelho e afídeos .
Coreopsis é multiplicado por sementes semeadas no final do inverno.