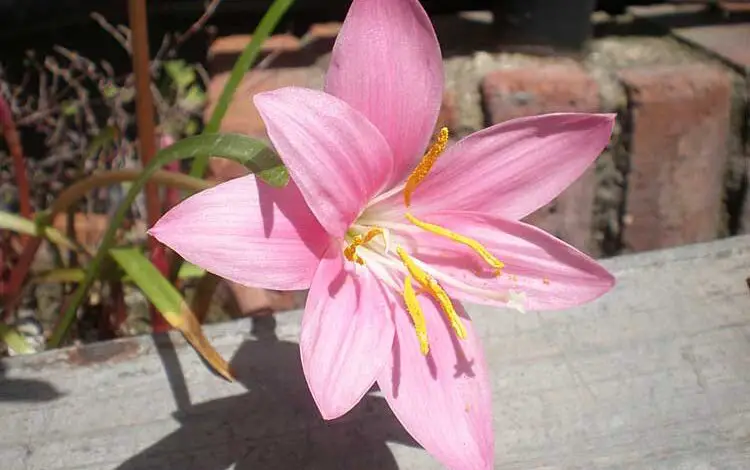 Dicas
Cuidados com a planta Zephyranthes carinata ou Cefirante
O gênero Zephyranthes , pertencente à família Amaryllidaceae , inclui cerca de 70 espécies de plantas bulbosas originárias de áreas tropicais e subtropicais do continente americano. Algumas espécies deste gênero são Zephyranthes carinata, Zephyranthes candida (açúcar do rio), Zephyranthes atamasco (lírio Atamasco), Zephyranthes americana, Zephyranthes rosea, Zephyranthes traubii.
É também conhecido pelos nomes comuns Céfirante, Rain Lily, Heart of Mary, Pink Goblin ou Tears of Mary.
É uma planta herbácea bulbosa que não ultrapassa 30 cm de altura e tem folhas de cor verde claro, estreitas e afuniladas no centro. Suas flores interessantes e atraentes são rosa com partes amarelas. Elas florescem no verão.
Você pode usar para formar grupos no jardim, em jardins de pedra ou terraços e em vasos para pátios, terraços e varandas.
O Cephirante prospera a pleno sol ou à sombra.
Uma boa terra poderia ser uma mistura de terra de jardim com algum lixo de folhas e areia. O plantio das lâmpadas é feito na primavera.
Água regularmente mas com uma pequena quantidade de água na primavera e no verão e reduzir a rega até que as folhas comecem a amarelar, momento em que deixaremos de regar.
Fertilizar com alguma matéria orgânica no momento do plantio do bulbo.
Se o inverno for muito frio (com risco de geada), é preferível cavar as lâmpadas e armazená-las em local seco e escuro.
Geralmente não apresentam problemas graves de parasitas e doenças.
É possível multiplicá-los dividindo o bulbo quando a planta está em repouso (inverno).